Fast, Accurate, Intelligent.
The main features of the AUT Series: A more regulated and coordinated productivity from loading in the medicines, all the way through the warehousing to the delivery. 
A New Perspective of the Officine.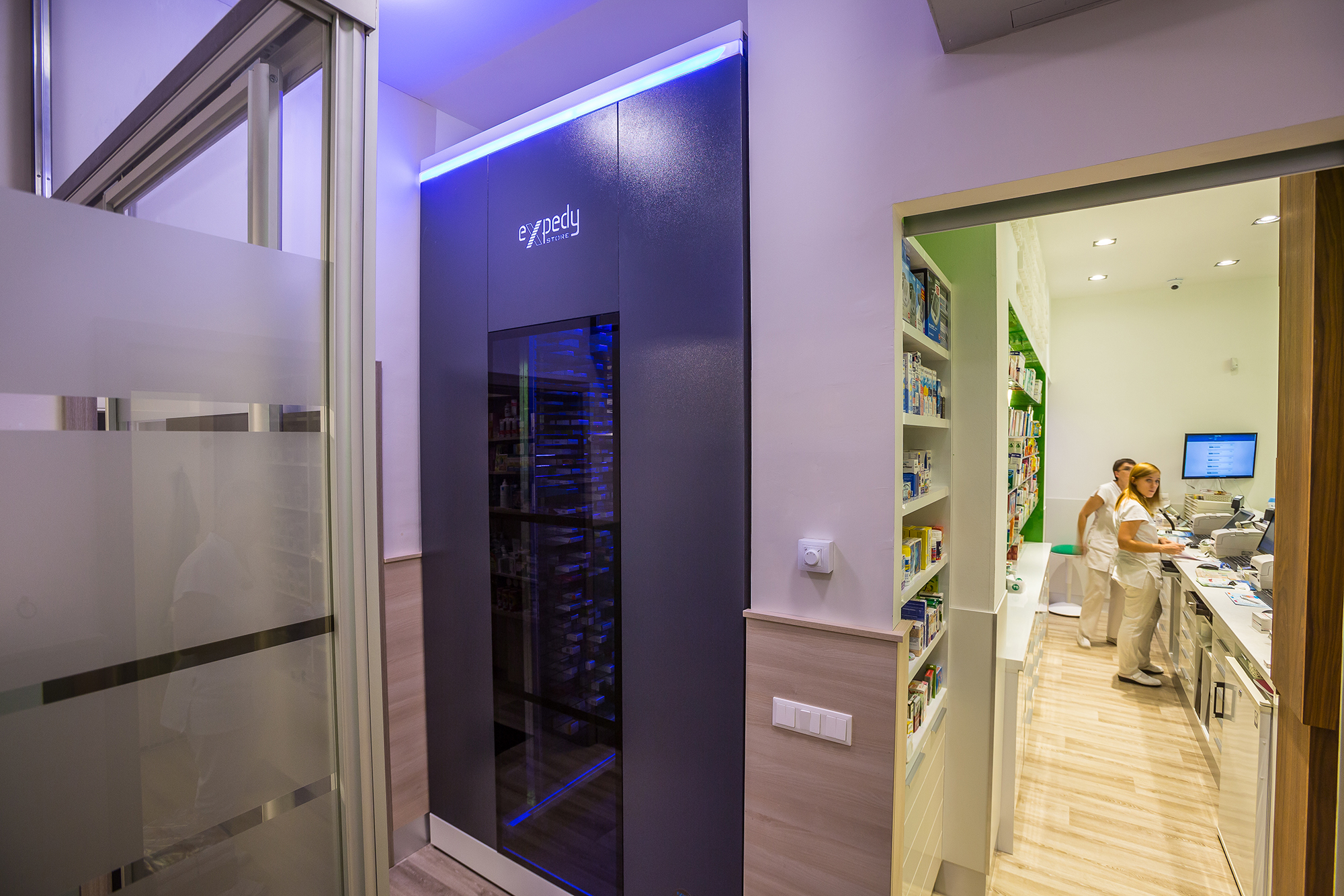 Different sizes allow you to provide a customized outlook given to your pharmacy. Due to its structure, the system provides you with the greatest flexibility in sizes, storing, based on your pharmacy's specific needs. Your ideas can be only limited by the capabilities of your pharmacy.
Optionally available with 2 robotic arms. On the entire storage interface of each robot arm is working independently, thereby reducing the cycling term of the in- and outputs by nearly half. Both robotic arms have the ability to fully take over the function of the other without any disruption in the officine. 
Optimal Use of Space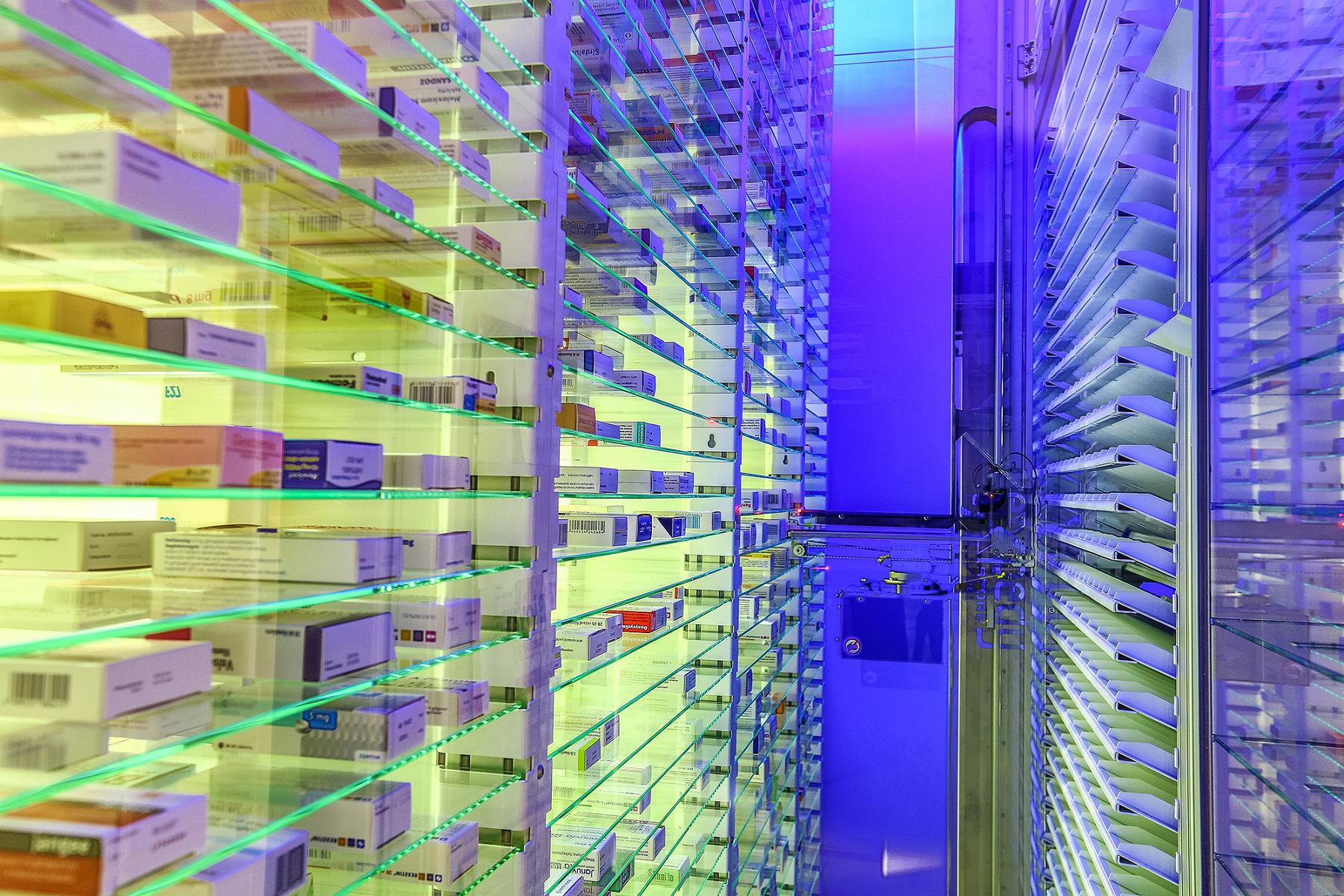 Due to the precise placement of each drug smallest box possible, should avoid most optimal available space, taking advantage of the lowest available in the repository interface is available gaps. Thanks to this, an average of around 2000 boxes per meter can be stored, creating a valuable place for officine in terms of patient traffic.Receiving and replenishing the goods received is possible while being in the immediate vicinity of the machine at the same time, so that a considerable amount of time and energy can be saved. In any case, Officine requests received during the In-stock, in all cases will take priority over all the other phases of work in order to prevent the formation of long and serpentine queues. Depending on the placement, two different loading options can be fitted to the base machines.
With the usage of an airlock system located on the longitudinal side of the machine and 1-1 of the same size, a large number of medication boxes can be stored under a short time period on a single storage interface. While the machine is packing away, under the same moment the other available storage space can be freely charged.
In the case of a front-side placement, the loading of the loading belt allows the continuous replenishment of medicines. After determining the size of the automatic box, the stored product is placed at the optimum location on the web due to the internal coordinated processes.
We have the right solution for you as well.
Equipment for handling up to 20000 different boxes from loading through warehousing to issuing, with expiration management and the identification of the user.

The fully automated operation ensures a much freer scope for you, so you can focus only on your pharmaceutic tasks.

Wide range of installation options.

The composition of the inventory can be managed within the most flexible framework.

Store large items and slow-moving, low-volume drugs easily and completely automatically with the maximum security while all boxes are available in seconds.

Thanks to our intelligent solution, you can always work with the latest technology.

In the event of any malfunction, all stored medications can be searched for easily by manually and issued
Parameters
| | |
| --- | --- |
| Length: (mm) | 3.400 - 10.000 |
| Width: (mm) | 1.300 - 1.550 |
| Height: (mm) | 2.400 - 3500 |
| Depth of Glass Shelves: (mm) | 370 |
| On-loading time (average piece per hour) | 300 |
| Off-loading time (average piece per hour) | 480 |
| Size of Box Minimum (mm) | 20 x 10 x 60 |
| Size of Box Maximum (mm) | 110 x 60 x 250 |
| Volume (per piece) | <55 |
| Net Weight (kg/nm2) | 300 |
Gallery